Universities, scientists or students, we have adapted the price of licenses.
Buy your license online
Order your HAIBAL 365 license now and make your project a success
Companies of all sizes need integrated solutions that enable them to innovate and grow their businesses. The HAIBAL deep learning toolkit for LabVIEW is intuitive and easy to use. It helps you build models more efficiently, faster, and more cost-effectively.
Scientists and laboratories
Today's research projects can become tomorrow's hottest new commercial technology. HAIBAL deep learning toolkit for LabVIEW  is the ideal all-in-one solution for designing, edit and train deep learning models for research projects involving innovative intellectual property (IP) and turning ideas into reality.
Academia program for students
Adapted to the university environment, the academia program gives students free access to the LabVIEW deep learning toolkit.
With the power of the HAIBAL deeplearning toolkit for LabVIEW, students will gain the universal design and engineering skills they need to build rewarding careers.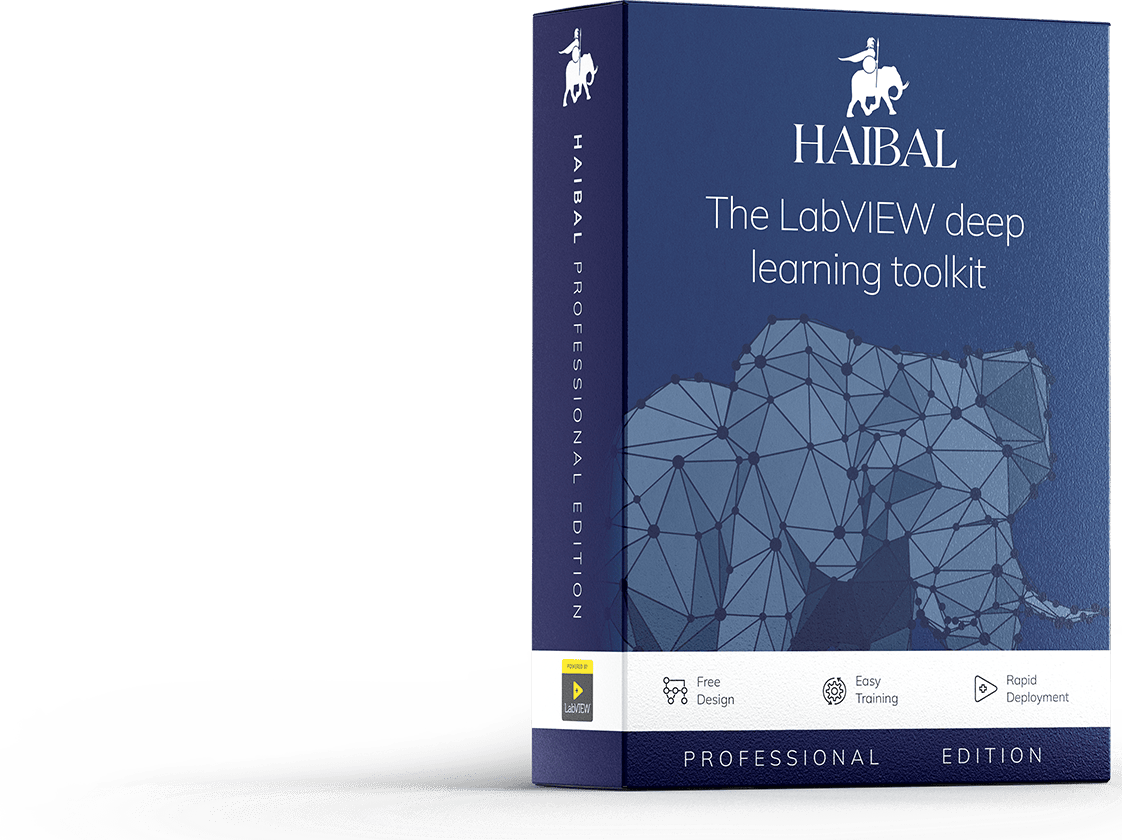 What you will get with your HAIBAL licence
The essential toolkit for LabVIEW
A complete set of simple, effective and innovative tools and features that will allow you to quickly design and integrate your deep learning model.
Professional Service Program
Access to the latest software technology through automatic upgrades and to support from Graiphic Technical Support Engineers.
Educational Resources
A complete and constantly updated documentation base to help you improve your experience.
Many Operational Examples Updated Regularly
A database of examples that can be quickly modified and integrated directly that will save you time in your projects.
Try the LabVIEW deep learning toolkit now !
Frequently asked questions
Which layers are supported by the toolkit?
HAIBAL offers all existing layers and is constantly updated.
The detail of the available layers is available here.
Does the toolkit support GPU acceleration?
Yes, the training and inferences can be accelerated on Nvidia GPUs.
Do we need Python Language installation to run the toolkit ?
No. HAIBAL deep learning toolkit is fully powered in LabVIEW. We worked more than 2 years to rewrite all the layers and functionalities in native LabVIEW. 
What type of hardware is supported by the toolkit ?
HAIBAL supports x86 based PC Windows OS for training and inference (a Linux version is under development).
FPGAs, AMD GPUs, intel GPUs will be integrate in the future (also under development).
Which version of LabVIEW is supported by the toolkit ?
The latest version of the toolkit supports 64-bit versions of LabVIEW  2020 and LabVIEW 2022. For a specific version please contact us .
Roadmap
Discover the chronology of the project and the targeted future evolutions.